Genre(s)
Melodic Death Metal
Lyrical theme(s)
Vikings, War, Norse Mythology
Origin Formed in Current label Status
Sweden (Tumba) 1992 Metal Blade Records Active
Current line-up
Johan Hegg - Vocals
Olavi Mikkonen - Guitar
Johan Sцderberg - Guitar
Ted Lundstrцm - Bass (ex-Eternal Oath (Swe))
Fredrik Andersson - Drums (A Canorous Quintet/The Plague (Swe), Curriculum Mortis (Swe), ex-Guidance of Sin, The Dead (Swe), Laid to Unrest)
Former/past member(s)
Martin Lopez - Drums on "Once Sent from the Golden Hall" (ex-Opeth, ex-Requiem Aeternam)
Anders Hansson - Guitar ("Thor Arise" - "Once Sent from the Golden Hall")
Nico Kaukinen - Drums ("Thor Arise" - "Sorrow Throughout the Nine Worlds")
Additional notes
Formed under the name Scum (Swe), then changed to Amon Amarth.

Amon Amarth is Sindarin for Mount Doom (J.R.R. Tolkien's "Lord of the Rings").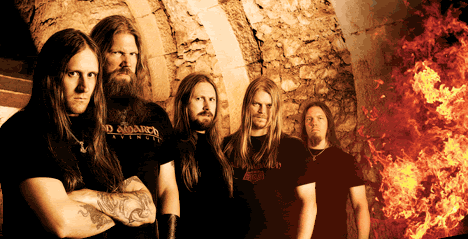 Johan Hegg i namdvili vikingia
....magari vajkacuri xmaaq...erterti chemi sayvareli vokalistia....
da amati death in fire udonesi veshiaaaaa...